Do you paint the inside of cabinets when refinishing?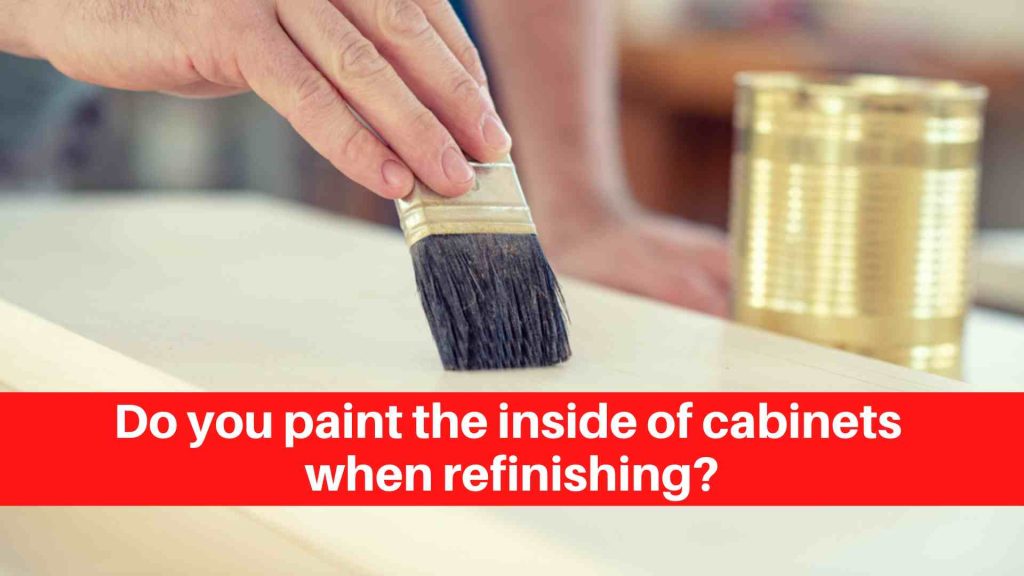 Should You Paint The Inside Of Your Cabinets When Refinishing?
It is entirely up to you whether or not to paint the inside of your cabinets when refinishing. Both options have advantages and disadvantages, so it all comes down to what you believe will work best for your specific project.
Painting the inside of open cabinets or those with glass windows will protect the finish from moisture and other elements. Painting the inside of your cabinets, on the other hand, will do little to protect them if they are closed and sealed from the outside world.
Finally, whether or not to paint the inside of your cabinets when refinishing is entirely up to you. Just make sure to consider all of the variables, such as humidity levels in your home, before making a decision.
-Should You Paint Inside Your Cabinets When Refinishing?
When refinishing cabinets, consider painting the interiors of the doors and drawers. This will aid in the resistance to moisture and damage caused by normal use. However, keep in mind that this process can be time-consuming and necessitate the use of specialized tools. Consult a professional before painting your cabinets to ensure that they are the correct size for the project and that no specialized paints or primers are required.
Advantages of Painting Inside Cabinets
It's a good idea to paint the inside of the cabinet when refinishing any piece of furniture. This will refresh the look and feel of your furniture. There are numerous advantages to painting the inside of cabinets:
-It will improve the appearance of your furniture and make it more durable.
-Paint has the ability to protect the wood from moisture and damage.
-Paint can also be used to bring color and life to your furniture.
Before you start painting the inside of your cabinets, test the paint in an inconspicuous area first. If the paint is too thick or dark, you may not be able to remove it without destroying your cabinet.
What Should You Do If You Do Not Have Glass Windows?
When refinishing your cabinets, keep in mind that not all glass is the same. Some types of glass can be painted, while others must be left unpainted to avoid damage. Here are some suggestions for what to do if you lack glass windows:
If your cabinets lack glass windows, you can still refinish them without fear of causing damage. Simply use a wood-safe paint and apply it with a brush or roller. Make sure to paint all areas of the cabinet so that no light can get in and cause damage.
If you have glass windows, it is critical to protect them from paint and other chemicals. To start, clean your windows with a cloth soaked in vinegar or lemon juice. Then, on the outside of the window, apply a sealant such as silicone or acrylic sealant. This will keep paint from leaking through the window and causing damage.
Painting Hints for Cabinets That Open and Close
When refinishing cabinets, keep in mind that the paint will come into contact with a variety of surfaces. This means you must take special precautions when painting cabinets.
One of the most important things to remember is to open and close the cabinet doors frequently while the paint is drying to ensure that all of the areas are evenly coated. You can also spread the paint with a small brush or roller.
Another thing to keep in mind is that if your cabinets have wood grain, you'll want to avoid getting any paint spots on the grain. You can use a fine mist sprayer or an airbrush, but these tools are more difficult to control and may result in uneven coverage.
It's also a good idea to seal kitchen cabinets before painting them if you're refinishing them. This will aid in the protection of the finish and the longevity of the new paint job.