Should you refinish floors or paint cabinets first?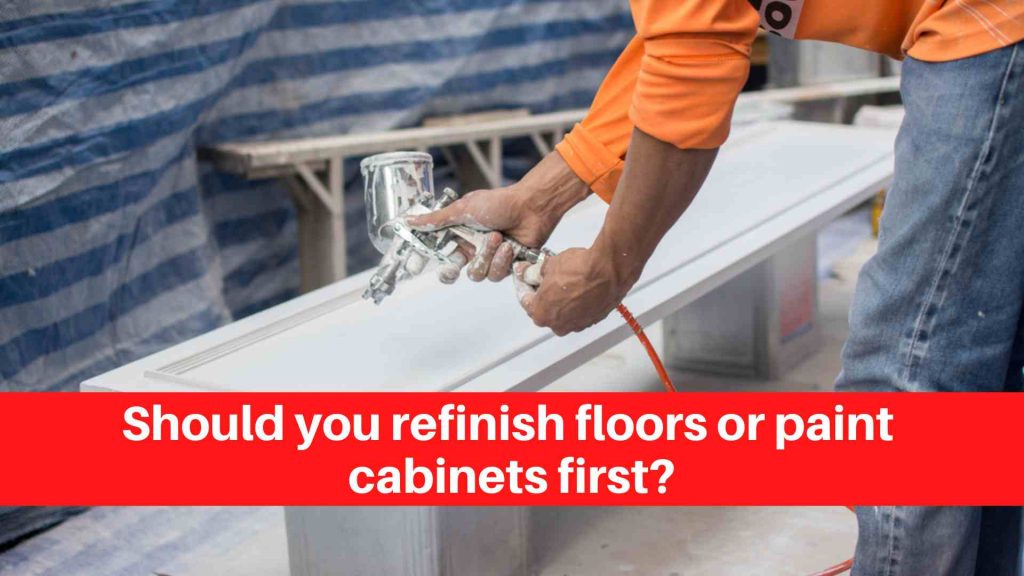 Should You Start By Refinishing The Floors Or Painting The Cabinets?
There are a few key elements to consider when updating your kitchen. One of the most important choices you'll have to make is whether to refinish your floors first or paint your cabinets.
If you decide to refinish your floors, consider the color of your cabinets and choose the flooring that will complement them. By concentrating on the floors after the cabinets, you can have peace of mind that even if a drop of paint gets on the floors, it will be removed during the refinishing process. Your kitchen floors will look brand new and will perfectly complement your refaced cabinets.
If you decide to paint your cabinets first, choose a color that complements the walls in your kitchen. Painting over freshly painted surfaces can be dangerous, so keeping things simple by painting over existing cabinets is always a good idea. Painting over existing flooring is more difficult than it appears – be prepared to put in some extra effort!
However, if you want a quick fix, painting over the flooring is a viable option.
How Can Painting Cabinets Affect Flooring?
Painting cabinetry can have a variety of effects on flooring. For starters, if the paint is unsanded or of poor quality, it will most likely cause staining and peeling on the floor. Second, if the cabinets are stained or have dirt and dust embedded in the finish, painting them will only mask the issue; the stain will remain and the dust will likely rise to the surface again after painting.
Finally, if you're refinishing your floors but haven't finished painting your cabinets, any paint that gets on the cabinets will end up on your floors, which isn't a good look! In these cases, it's best to refinish your floors after all of the cabinet painting is completed.
First, paint the cabinets, then refinish the floors if desired. Any paint that gets on the flooring will be removed during the refinishing process. Furthermore, your kitchen floors will appear brand new, perfectly complementing your newly painted cabinets.