What is the difference between refinishing and resurfacing kitchen cabinets?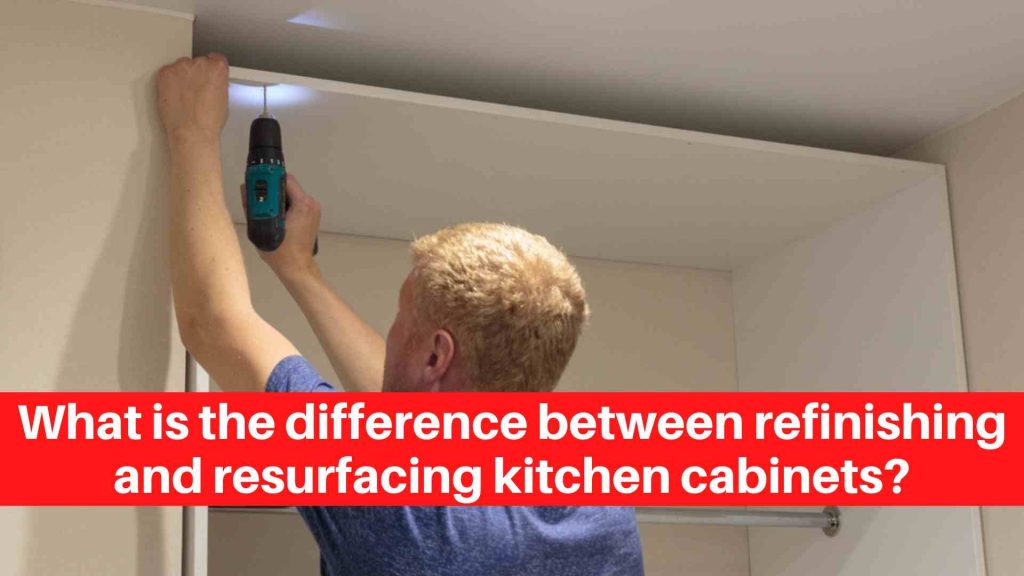 What Is the Difference Between Kitchen Cabinet Refinishing and Resurfacing?
There is a significant difference between painting and refinishing kitchen cabinets. Refinishing is a less expensive and broader term for returning old paint and finishes to their original state. Repairing chips, cracks, and other minor damage falls under this category. Resurfacing, on the other hand, is a more thorough procedure that involves replacing the entire cabinet surface with a new finish.
Resurfacing can be accomplished in several ways, including sanding down the old finish and then applying a new one, prepping the surface with acids and then applying a varnish, or removing the old finish layer by layer with a laser. Each method has advantages and disadvantages, so it is critical to select the best one for your project.
Because it involves replacing all of the cabinet surface material, resurfacing is usually more expensive than refinishing. Resanding and prepping, followed by an oil or water-based finish, can be less expensive than replacing entire cabinets.
Choosing which type of cabinet restoration to perform can be a difficult task, but it is necessary to ensure that your kitchen looks its best. Whether you want to restore an older piece of furniture or simply give your current set of cabinets a new lease on life, selecting the right type of restoration will help create a look that is fresh and modern while also preserving the underlying structure of the cabinet.
What Are the Advantages of Refinishing Versus Resurfacing?
There are a few key differences to consider when deciding between refinishing and resurfacing kitchen cabinets.
Refinishing is a broader term for a variety of different restoration techniques that can be used on a piece of furniture, such as painting, staining, and re-coating. Refinishing is a less invasive option than resurfacing, which means fewer repairs or modifications are usually required.
Resurfacing, on the other hand, is a more extensive process that typically includes repairing or replacing damaged or worn parts of the cabinet, as well as countertops and backsplashes. While refinishing only restores the surface of the cabinet, resurfacing replaces the entire structure, and each option has its own set of advantages and disadvantages.
Refinishing, for example, may be less expensive than resurfacing for certain repairs; however, resurfaced cabinets often appear more sleek and polished than their refinished counterparts. Furthermore, refinishing may not be appropriate for pieces with delicate finishes or intricate details, whereas resurfacing can restore even heavily stained or scratched cabinets to their original state.
Finally, when deciding whether to refinish or resurface your kitchen cabinets, it's critical to consult with a qualified professional – each option has its own set of advantages and disadvantages that should be considered before making a decision.